Presenting the snap, crackle and pop that defined the 50s and 60s of American life, Robert Mars' work depicts our beloved icons at their apex, ever patriotic underneath some stars and stripes. Over time his pieces have grown louder, busier and more colorful, playfully mirroring his "city that never sleeps." In a Q&A session with Dirty Laundry, Robert described his journey as a designer-turned-artist, and detailed his creative process.

To start things off, how long have you been making art and collages? Were you into it as a kid?
I have been making art as long as I can remember. A few years back my parents gave me some artwork that I had done when I was between 5 and 10 years old and I was surprised to see that I was already experimenting with collage and pop-based themes. No one in my family was artistic, so I am not sure where the influence came from. The thought to switch my career from a graphic design focus to fine art came in 2000 when I started to get burnt out on graphics and felt I had a story to convey that I was not able to tell through graphic design.

You have lived on both the east and west coast. How were these experiences different, and what affects did these two locations have on your work?
I spent most of my life in New York, but I had a west coast stint from 1996 to 2005. From 1996 until 2001 I lived in Los Angeles, and from 2001 until 2005 I lived in Portland, Oregon until returning to New York to pursue my dream as a full-time artist. As I was about to leave Los Angeles I started to notice its influence on my work mostly through the landscape and city infrastructure. The neon signs, vintage car culture, and overall sparse feeling of Los Angeles became apparent in what I was creating. When I got to Portland, I focused my time on creating bodies of work that I could present to galleries.
In the years I spent in Portland I traveled quite a bit and really absorbed the Southwest, particularly New Mexico and Arizona, eventually stumbling upon Oklahoma as well. I would take road trips to document the cities that grew and flourished during the 1950s due to the birth of the highway system, but have fallen into disrepair. This body of work took me from 2000 through 2009 and then you can see the New York influence come into play. My work has been influenced by the bustling nature of the city and in turn has become more colorful, busier, and overall louder.
There is an inherent mystique of the years before I was born, with a culture that influenced future generations. From my perspective, America at that time conveyed a tone of hope and prosperity. People had pride in their work and pride in our country.

You seem to have nostalgia for a time before you were born. Why do you think that is? What interests you about American culture from the 1950s and 60s?
I do have nostalgia for the years before I was born. I attribute it to a few things. First is the apparent influence of the many facets of design and art from that era. When we look at everything from architecture, typography, and automotive and furniture design, there is a definite influence from the mid-century. Second is there is an inherent mystique of the years before I was born, with a culture that influenced future generations. From my perspective, America at that time conveyed a tone of hope and prosperity. People had pride in their work and pride in our country. It seemed that even though there was tremendous struggle going on with civil rights and wars, there was still an overall positive outlook.
Your work focuses a lot on Americana and the icons of this country. How do viewers from other countries relate or respond to your work?
Most of my images are strongly rooted in American themes but I also have some foreign icons that have had a huge impact on American culture. With that said, about 50 percent of my collector base is from France, England, Italy, Switzerland, China, and Germany. I believe there is a connection to the America of the past in many foreign countries and the icons I choose carry a universal appeal.



Describe your process. What goes into a single piece?
My paintings involve multiple processes that I am constantly trying to manipulate and perfect. They start out on museum quality wood panels and I build layers of brown paper bags as the base. This layer also serves to delineate the space of the panel. I then build layers of vintage ephemera such as newspapers, road maps, magazine advertisements, and other paper items from a huge collection I have amassed of 1950s and 1960s LIFE, LOOK, Time, Playboy, GQ, and Saturday Evening Post Magazines, as well as U.S. travel maps, and newspapers. The next step involves paint in multiple layers. Once I am happy with the composition I take sandpaper to the surface to reveal the under layers and create a weathered appearance. At this point I start applying the acrylic transfer with more layers of ephemera as I see fit. Once the piece has been finished it gets a finishing of newsprint on the sides and a UV varnish and then it is ready for the final coat of epoxy resin that seals all of the layering and weathering in a smooth, shiny topcoat. I like that the perfect topcoat is in stark contrast to the layering beneath.



What is your studio practice like?
My studio practice is extremely regimented. I get there between 8-9a.m. each weekday, already knowing what I need to accomplish. Twice a week I have an assistant who helps me prepare and finish my pieces, so the day determines what will be worked on. I always take an hour for lunch to break the day in half and I try to leave by 6 to get home to the family. I find that if I have set hours it helps me to focus and accomplish what I need to in that set time.
I saw that you recently took a stab at working with neon. How did it go? In what ways did that process differ from your usual collage work?
My last departure with my work was a neon-based piece. I started with my standard base of wood panel and painted a black-on-black American flag so it would be subtle in the background but pick up highlights with the collaged materials reflecting the light of the neon. I chose not to resin coat this piece as I felt it would contribute to an unwanted glow. I worked with a famous old school neon shop in Manhattan to get the effect that I wanted and it turned out beautiful. I just received two more finished neon-based pieces for my show in December.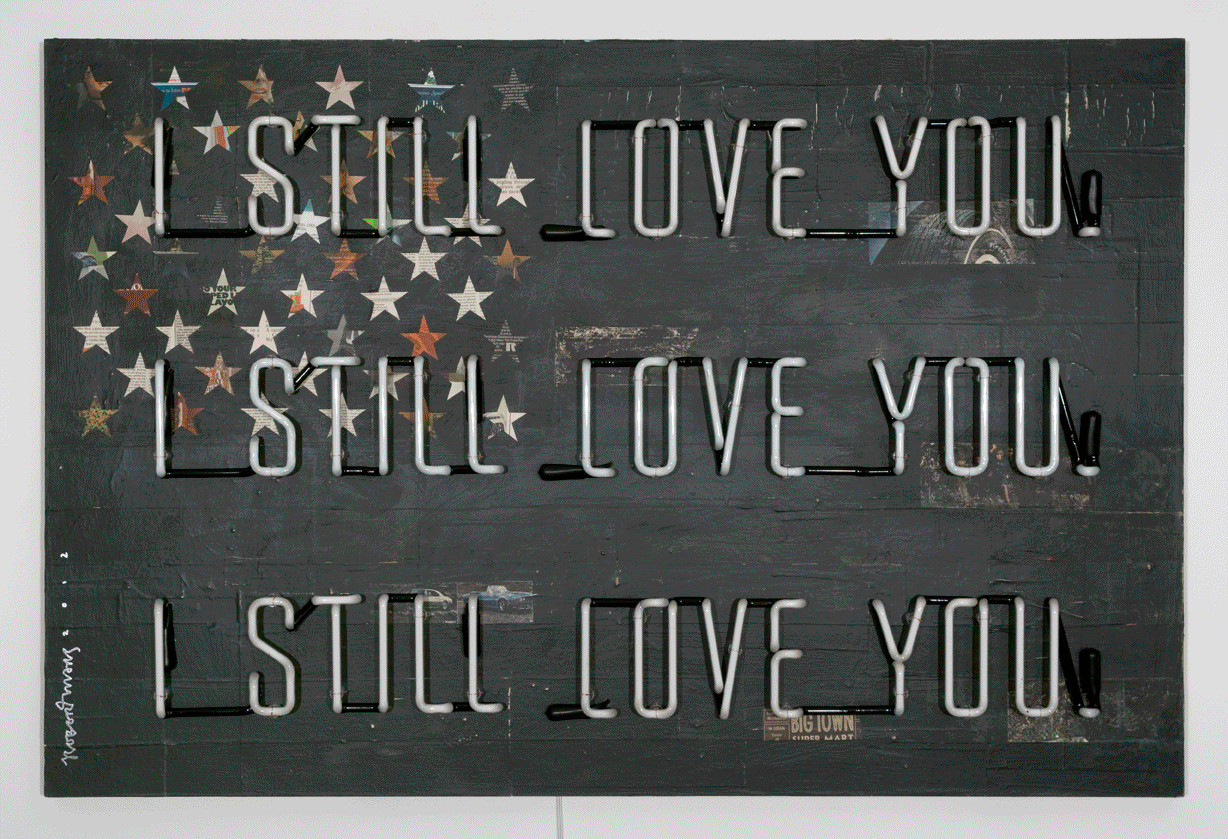 You have a strong background in both commercial and personal work. You have worked with a handful of companies such as Element, Old Navy, adidas, as well as landing the spot of design director for Zoo York. How does working for commercial companies compare with personal art, do they affect each other?
I no longer do commercial work; Zoo York was my last design-related job. All of my design related-jobs had an influence on my artwork. As a graphic designer and creative director I was able to travel around the world and that in itself was inspirational. Additionally, having a constant eye out for fresh design was also an influence that carried over into my personal work.
I spent many years dividing my time between day jobs and art. The switch came when I realized that my time was best spent focused on my personal endeavors. It was a little scary to make the jump but once I did, I never looked back. My work has only grown in a positive direction since leaving a day job, as I have more time to focus on the future and grow my work in an organic manner.

I spent many years dividing my time between day jobs and art. The switch came when I realized that my time was best spent focused on my personal endeavors. It was a little scary to make the jump but once I did, I never looked back.
What travels, adventures, or experiences have had the most significant impact on you?
I have been fortunate enough to travel much of the world through my design-related jobs. I have visited much of Europe and Asia and now my travels take me to countries where my work is exhibited, most recently including Bulgaria and Switzerland. Despite that, I still feel that the biggest impact on my work came from traveling across America several times on road trips to document small towns. I love the wide open spaces that the middle of the country offers. I respond to the landscapes of small-town America- the holdover neon motel signs and rest stops of the highway towns. Larger cities like Los Angeles, Denver, Chicago and Albuquerque, as well as smaller cities like Portland, Flagstaff and Cheyenne all have icons from the 50s and 60s left intact.
I feel that all of my experiences art-based or not get distilled and come out through my work. I would say non-art-related cities that inspire me would be Tokyo, Hong Kong, Berlin, London, Zurich, Florence, Amsterdam, and Shanghai.

If you could delve into another artist's mind and body for one day, who would it be, and what would you make?
I would have to say, without question, that Robert Rauschenberg has had the biggest impact on me as an artist. I feel that he was the most important artist of the 20th century. He experimented in all disciplines of art- photography, painting, printmaking, sculpture, and even performance art pieces that all had his distinct signature style. He was the artist that I thought took aspects of abstract expressionism and pop art and blended them flawlessly. I am also interested in pursuing sculpture, so I would work on his Combines if I were able to be in his body for a day. His Combines were beautiful 3-D collages made from garbage found on the streets of New York.
Who are some artists, (past or present), who have had a great influence on you and your work?
Past artists who have influenced me in no particular order are Robert Rauschenberg, Keith Haring, Jasper Johns, Richard Diebenkorn, Andy Warhol, John Chamberlain, Stephen Shore, Mark Bradford, Jules DeBalincourt, Rosalie Gascoigne, Mimmo Rotella, Basquiat and Egon Schiele. Current artists in no particular order are Jeff Schaller, Jane Maxwell, Melody Postma, Brandon McLean, Damien Hirst, Vik Muniz, Evan Hecox, Phil Frost, Thomas Campbell, Randall Reid, Barry McGee, Ted Larsen, Ed Ruscha and James Rosenquist. There is so much great art being produced today it is hard to keep up on all of it, but I try.
Without question, Robert Rauschenberg has had the biggest impact on me as an artist. I feel that he was the most important artist of the 20th century.

What exhibitions or projects have you seen that have completely blown you away?
In the past few years I have seen a few exhibitions that left a huge impression, but the one show that changed my art life was the High and Low: Modern art And Popular Culture show at the Museum of Modern Art in 1990. It introduced me to so many artists that have had huge influence on my life and the way that I see art today. I feel like it encompassed so many aspects of art history in a cohesive exhibition. The Barry McGee show at Deitch Projects in 2005 was spectacular in its curation as well as how much work was presented. The Basquiat retrospective at the Brooklyn Museum also in 2005 gave me a glimpse of his world, which was as genius as it was troubled. The John Chamberlain retrospective at the Guggenheim this year really changed the way I think about how I would create sculptures. His reappropriation of car parts was fascinating.
I really appreciate that a lot of artists today are stepping away from the white walls and hung art approach, and moving towards shows and are creating large-scale installations coupled with their paintings.
What do we have to look forward to with your work in the future? Any big plans?
The past few years have been very busy trying to fulfill obligations to my galleries' demand for work and I am feeling the changes come through in small steps, but I am happy where I am in my transitions. The neon will definitely be a concept that I explore further. I want to build on the found sculpture pieces I started this year and I have my first solo museum show in December at the Coral Springs Museum of Art in Florida. It will coincide with Art Basel Miami which will be major for exposure.

What is some sort of truth you've discovered, or a revelation that you've had making art?
I have had many revelations over the years as an artist, but I think the biggest one has been understanding how to convey a feeling using symbolism, color and composition. Figuring out how to connect with the viewer and communicate ideas in a greater way, and in an almost subliminal way. It allows me as an artist to strip away conventional ideas and explore underlying themes in my work in a more subliminal manner.
Last question: If you could join one band from any time period, which would it be?
Jimi Hendrix Experience. What Hendrix did on guitar was mind blowing and yet still cohesive as a traditional rock song. Plus he made some of the greatest rock songs in history.