Creating an experience through his art shows, San Francisco painter and designer Erik Otto spoke to Dirty Laundry about his creative process that aims to tell the story behind his work by changing the viewer's sense of environment. A victim of the travel bug, Otto's adventures give him plenty of stories to tell, and maybe that's why he's come to learn home is simply a feeling you carry with you.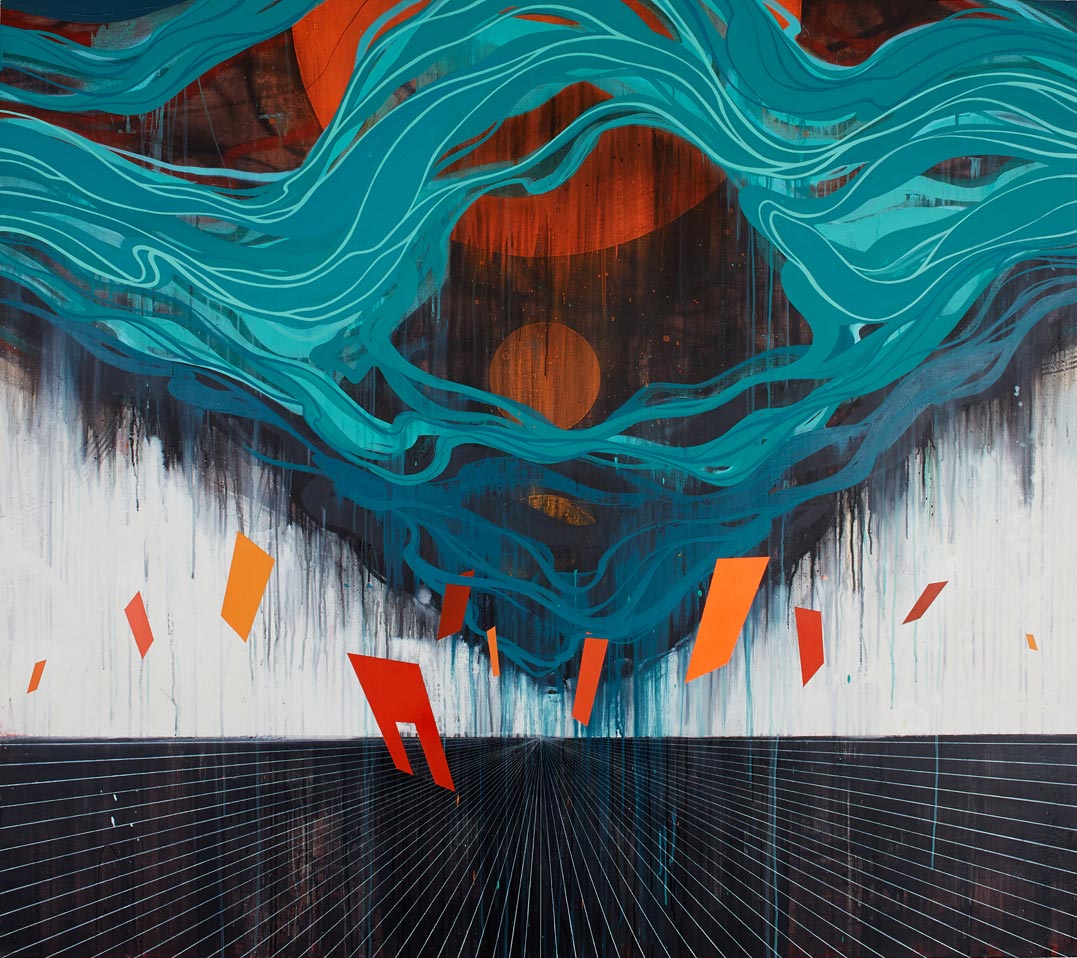 How do you attack a project?
It all starts with a back and forth process of free writing words and phrases that first come to mind while sketching out small compositions. Drawing from personal experiences, I consider all the different ways to combine personal artistic goals with thoughts and feelings that are currently occupying my mind. Once I develop a clear understanding and a sense of vision for a specific piece, I set out to see it all the way through even when my mind begins to wander in order to build trust in the creative process.
With my paintings, I usually jump in with a burst of energy making fluid and expressive marks letting the unconscious flow. After things progress, my pace begins to slow while I add and remove only what is necessary until the piece reaches a final resolution.
What is the significance of some of the reoccurring motifs in your work?
My early work portrayed a lot of houses. Upon first relocating to San Francisco, I was searching for my sense of belonging and the house symbolized a state of being I was directing my life toward. I was dealing with a lot of instability before my arrival and it the house developed as a reminder to continue seeking my place of peace. My work back then was heavily cathartic and the house was an autobiographical element often depicted in worlds filled with storm clouds and rising waters. It became a symbol of hope that I was trying to protect.
As the outlook of preserving my peace evolved into an understanding that it would be a life-long pursuit – learning that one challenge replaces another, and that moments of hardship are necessary for growth…
As the outlook of preserving my peace evolved into an understanding that it would be a life-long pursuit – learning that one challenge replaces another, and that moments of hardship are necessary for growth – I began to appreciate the process of pursuing the calling for my life even when it meant facing fears and uncertainties.
At that time, free flowing forms took center focus to highlight the importance of living in a continual state of flow. Looking back, this was my way of accepting the unknown and seeing the beauty in the adversity.
This direction continued to evolve along with my confidence, and I eventually discovered the realization that the place I was trying to get to was within me all along. This mental shift revealed a refreshing perspective that overall embodies the work I create today. It incorporates the free-flowing forms within centered compositions and circular shapes representing harnessed energy and infinite potential.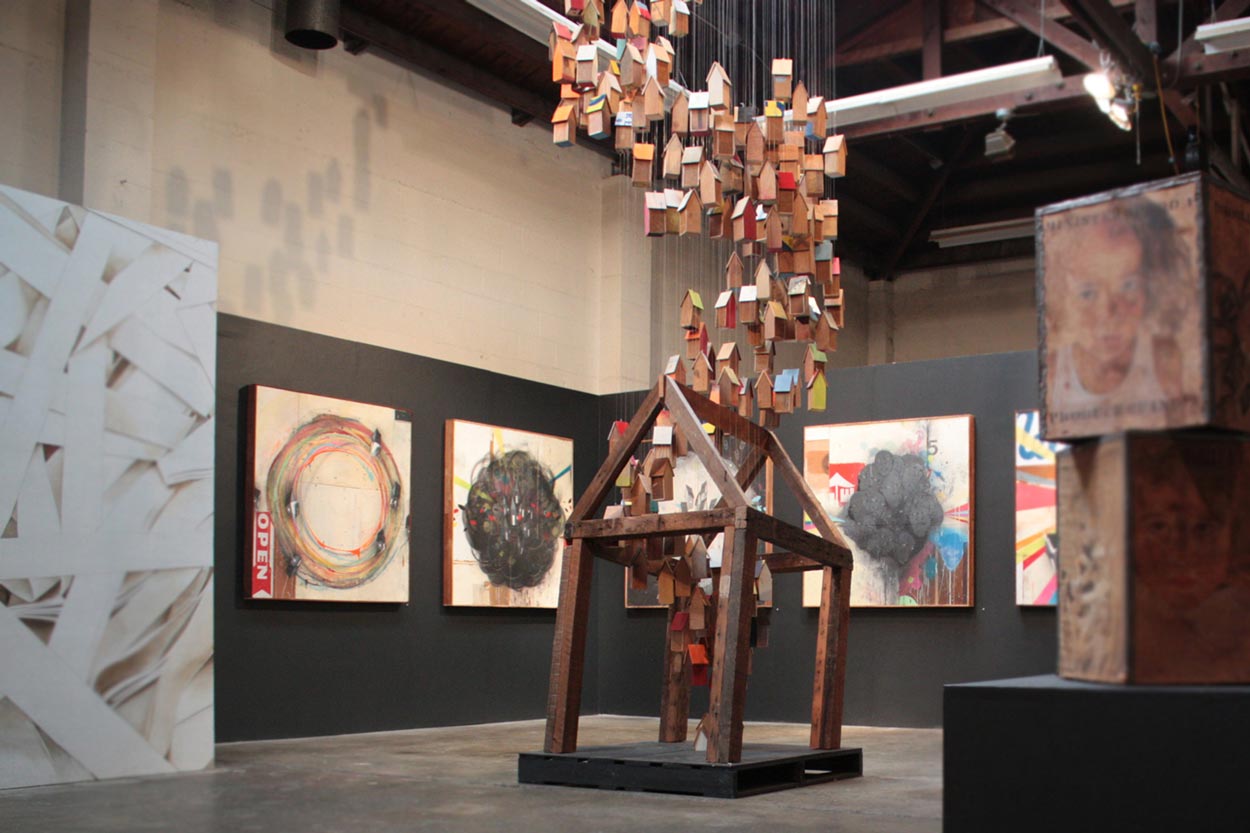 Working in such different mediums, you create more of an experience than a show. How do you navigate through a body of work to get this end result?
First off, thank you for noticing because that is definitely something I aim to do with my work. I always take into consideration the space in which the work will be presented. If possible, I visit the location beforehand to visualize all the ways I can transform an environment to enhance the story behind the work, paying close attention to the order of how the work will most likely be viewed along with their relationships to one another.
From having an interest in multiple mediums, I let the underlying concept of any body of work suggest the direction to take while keeping in mind ways to push myself as an artist and explore new possibilities with any given medium.
What's the importance of using reclaimed materials in your work?
Working with reclaimed materials provides an opportunity to improvise with something that had a life before I came in the picture. Simply by the act of re-purposing, you get to rethink the possibilities from its intended function, which is a creative act in itself. Being open to seeing everything as useful can be a great skill to achieving unexpected results that may have not happened, if I always limited myself to conventional tools and materials.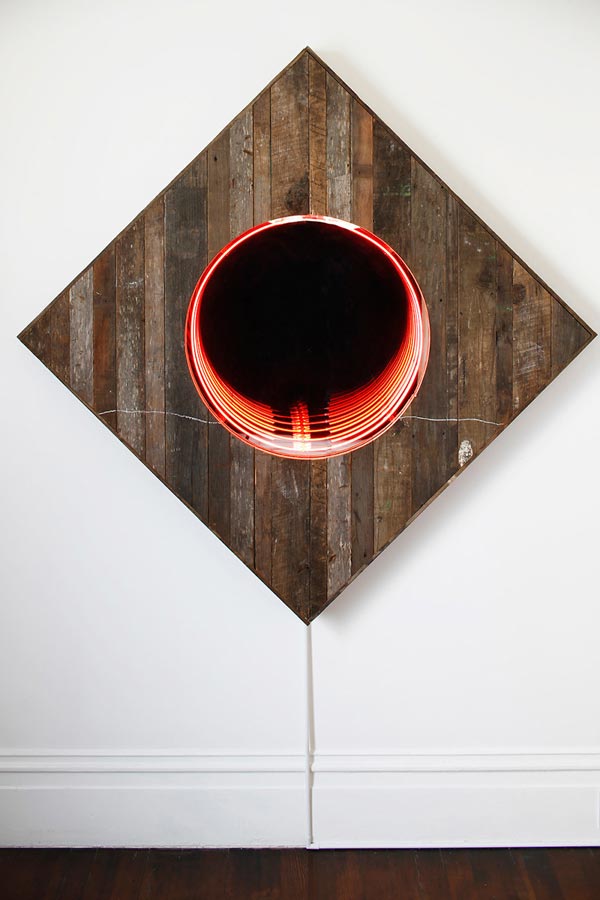 What started out as a cost-effective environmentally conscious decision eventually led me to discover the abundance of material that is out there for the taking and that there really is no limit to what you choose to create with. And this way, if something doesn't work out, you can always toss it back into the sea of waste at no real financial loss.
How does your 2-D and your 3-D work influence each other?
My paintings can go in so many directions, but with the three-dimensional work, I am somewhat forced to simplify the subject matter and experiment more with the materials themselves. They are two totally different ways to create, and while I enjoy the magic in making something appear from a blank surface that comes with painting, problem solving three-dimensionally can provide more clarity and depth to what I am trying to achieve with paint – most often providing inspiration in what to paint next.
When was a time that you really stepped out of your comfort zone with a project?
Hands down, I would have to say one of my more recent shows that involved temporarily relocating to Mexico City for four months with the intention of making a new body of work that would result in some kind of event. At the start I had no idea if it would work and no amount of planning could have prepared me for the array of challenges that came with attempting such an ambitious project in a foreign environment. In short, I successfully pulled off what I call a self-initiated art residency and with the help of some very pivotal connections I made from taking that leap of faith I managed to pull in a crowd of over 200 people for the opening and made one of the most unforgettable life-changing experience to date.
What has been your favorite project to date, and why?
Usually it's the most current one. But a project that stands out in my mind is an outdoor sculpture I built for Luna Rienne Gallery in San Francisco. It was my first ever outdoor piece that served was both art and function. It included color-changing mood lights, multiple places to sit, planter boxes and overall an imaginative place for people to escape the constant motion of living in a dense urban environment. Once the piece was set in place, it took on a life of its own and witnessing the impact it made on the local community was such a great feeling and an important reminder that art could be more than just something that lives in the safety of a gallery.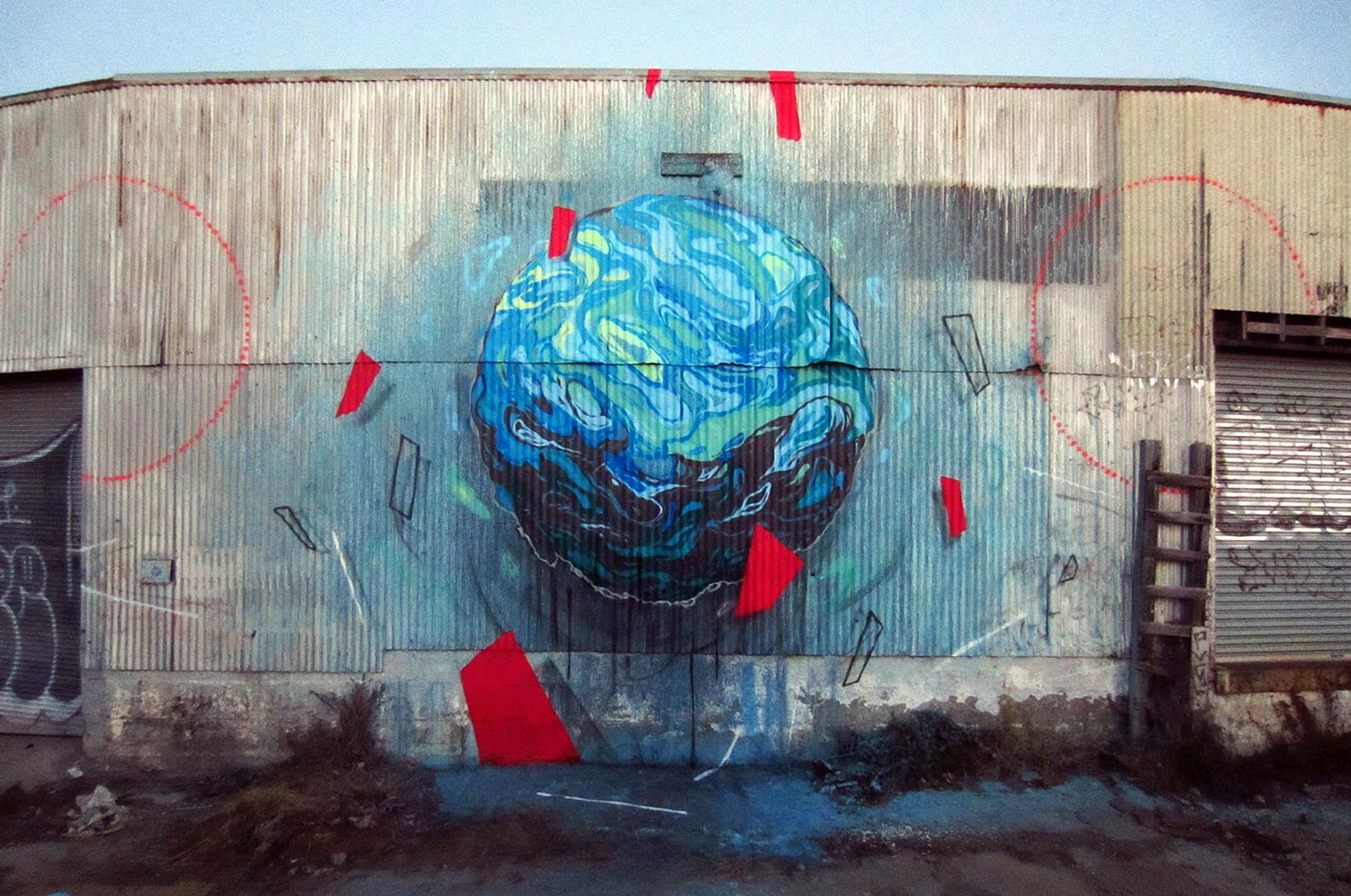 You're big on travel and living in the moment. Can you share some of your best travel moments?
Immediately after graduating college in 2005, I booked a one-way flight to Oahu, HI where I perfected the art of traveling light. I was practically couch surfing with another couch surfer and the entire island became our stomping grounds as we went from one place to the next with endless adventures in between. We hiked and camped in the mountains, lived on a farm, danced and played music on the streets for money, swam every beach, then flew to Kauai where we illegally camped for three days. On our last night we built this huge bonfire and invited everyone in the area to join us as we played music until the sun came up.
Another unforgettable moment was the time I convinced a friend to come with me to Teotihuacan to witness the sun rising for the infamous winter solstice that some predicted would mark the end of the world. Turns out the site was closed until well after the sun would rise, so we decided to sneak in the night before and camp out to not miss this once-in-a-lifetime opportunity. As the sun started to break we made our way to the Temple of Sun but the authorities spotted us and a hilarious game of cat and mouse ensued as they chased us around the site until we were able to make a break for it. We eventually were caught, released, and were told that we were not allowed to come back. But later on we had some tamales, changed our outfits and walked right back in. Oh, and the end of the world never came.
So many stories…so little time.
What does the idea of "home" mean to you?
I have learned that home, surprisingly, can mean so many different things to different people. But for me, it symbolizes comfort and peace from opposing external forces. Put simply, I define it as state of being where your mind and spirit are one while summing up a desired outlook to focus my energy in the things that matter most. It's not a static place, yet a feeling you carry with you.
What do you know now that you wish you had known when you first started out?
To never doubt my abilities. That everyone has their own unique path and story to share. Be patient, enjoy the process, and everything will be OK.
What have been some unconventional sources from which you've drawn inspiration?
I grew up as a very active kid. Learning to plat the drums and break-dance played a big role in my formative years and it's the rhythm, motion and the understanding of full body movement from those outlets that heavily influenced my approach to art-making. Truth be told, I still play music and dance by myself in the studio until I am dripping in sweat, and I see my painting style as another form of dance or way to make music.
Since moving to San Francisco, I have taken up cycling and take it pretty seriously. I feel the simplicity of riding a bike, especially for long distances, is very meditative and teaches me to keep pushing, even when it hurts.
Besides that, I watch a lot of Neil deGrasse Tyson lectures about the universe and the cosmos and it always seems to get my creative juices flowing.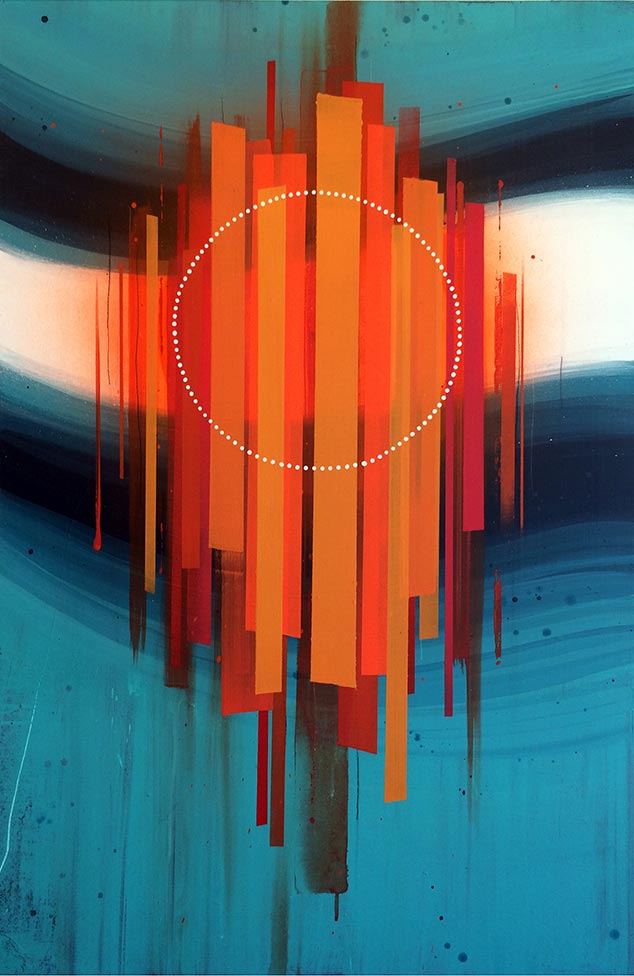 What is your personal utopia?
I find solace in solitude, but I am inspired by energy of big cities. I dream of the day I can have both. A getaway place with a modest dwelling and a large separate area to make work at my own pace, while also holding down a small live/work space in a major city where I can stay connected to all that's going on. I want to always be able to ride a bike so that would play a role in both locations.
If you weren't an artist, what would you do?
I used to have an answer for this, but I honestly have no idea anymore. I never really made the conscious decision to be an artist. I make art because I need to – with or without a paycheck. It's who I am and will ever be.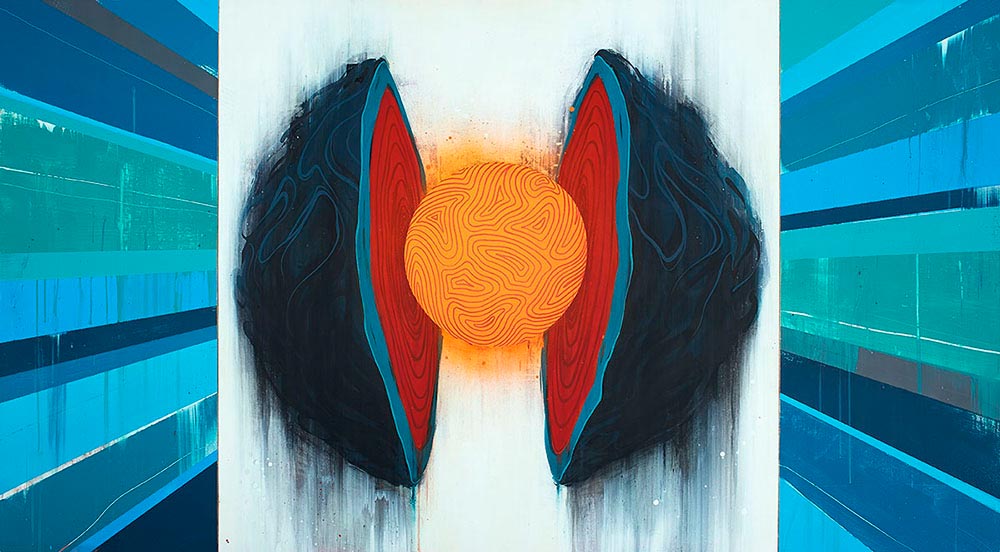 Can you tell us a little about your self-made artist residency in Mexico City?
Back in 2012 I had a major life shift. I was feeling unhappy and uninspired with life and finally decided to put action to what I had been wanting to do for a while, and take up a life revolved around traveling. I move out of my living space, downsized my life to a few boxes, and took what little money I had left to buy flights to shake things up. I had previously spent months putting together a handmade media kit I was very proud of and began delivering them to a bunch of places I respected in between trips to Los Angeles, New York City, and eventually Mexico City, in hopes to get some work going. It wasn't easy, but it was also a great feeling to really put myself out there to see what I could accomplish completely on my own with nothing to lose.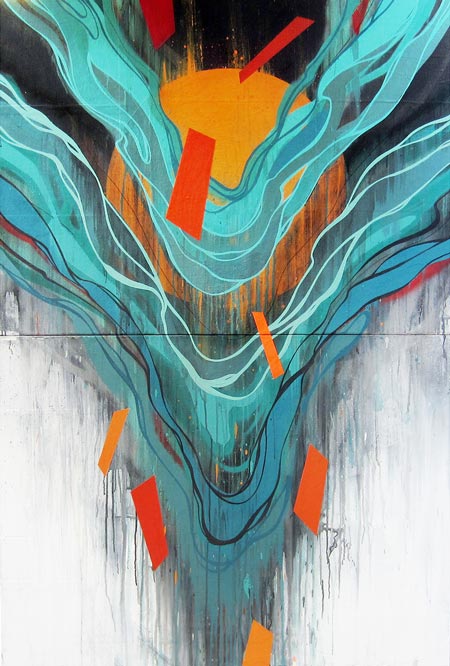 I never really put too much thought into Mexico City, but the city kept popping up on my radar of places I should check out, so I pulled the trigger and went for it. I had no idea what I was getting myself into and barely had my Spanish down, but after spending the first three days getting completely lost while exploring the initially intimidating city by foot, I started to grow weary and frustrated that I hadn't done enough planning. Then on day four I set out to get some comfort food, and I somehow ended up bumping into a friend I used to ride bikes with in San Francisco, but had last touch with. Turns out he moved to Mexico City and was living just a few blocks from my hostel. Talk about crazy coincidence. From there, as they say, the rest was history. My friend Tony took me under his wing and showed me everything the city had to offer while introducing me to everyone he knew along the way.
Soon after, I fell in love with the city's energy, culture, and what I would call magic, and on that trip I decided I would come back again to create an exchange with my art. After a few more trips within the span of a year, I booked a one-way flight and quickly made a new relationship that led to getting keys to an eight-room abandoned apartment building in a hip part of town. It was insane. Complete with rooftop access and endless material in the basement, I was given total creative reign. Without hesitation I invested my all into making new work inspired by my travels to Mexico City. I made paintings, one sculpture, and a site-specific installation. I even flew down a friend to help pull it off, but the best piece in the show was the apartment itself. With the help of some friends, we brought life back to this once forgotten space and made it our own. It was an obvious decision to host an event there and I couldn't have asked for a better turn out.
In the end, I had to come back to San Francisco, but I still have a studio and all my supplies in Mexico City so the plan is to keep returning to continue building the momentum.
Right now you're in San Francisco working on an exciting new project with support from VSCO's Artist Initiative. Can you share some details?
I applied and was recently was selected to be a part of VSCO's new Artist Initiative program, which basically helps artists bring their dream projects to life. It all happened so fast, and coming off my high of Mexico City, I wanted to do the something similar, but in my hometown.
The overall vision for my project is to create a new body of work consisting of mixed-media paintings, wood and light sculptures, and a massive site-specific installation that will blend in the overall environment and double as the performance area for live musical. All this and a few more surprises are happening in September in San Francisco at an undisclosed location. My end goal is to provide something different by making a fully immersed art and music experience to inspire the creative spirit that lives in all of us.
What are you most excited for and fearful of for this show?
Well first I am elated by the opportunity to take over a raw space to create an unconventional and unforgettable night for everyone to experience this vision.
I guess what I fear the most, is that it will be quickly forgotten.
What's the first thing you'll do after it's all over?
I have some dedicated family-time right after the show and am looking forward to becoming an uncle for the first time. I'm also planning a multi-day hiking and camping adventure through the Grand Canyon with some close friends. Then, back to Mexico City to pick up where I left off.
It was also a great feeling to really put myself out there to see what I could accomplish completely on my own with nothing to lose.